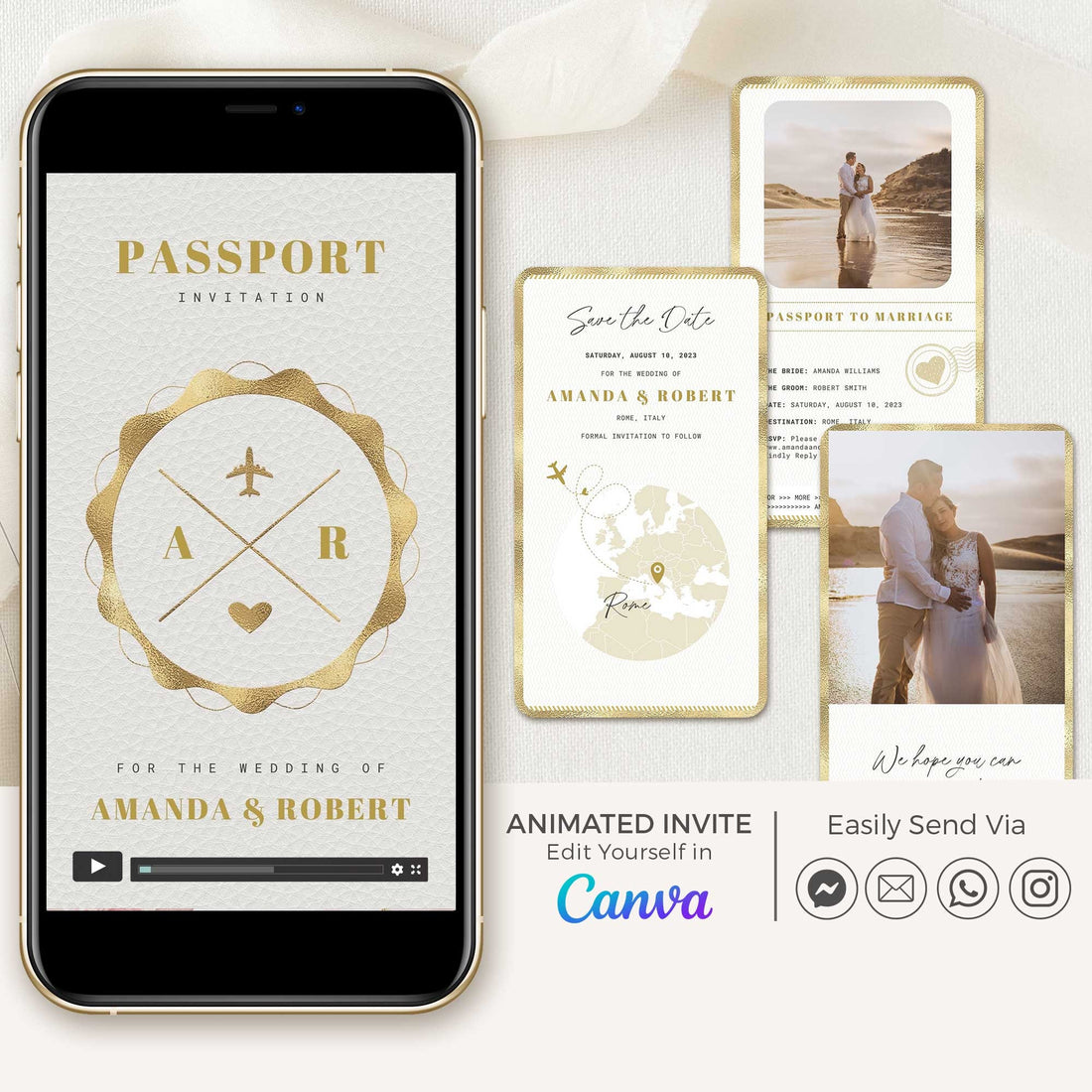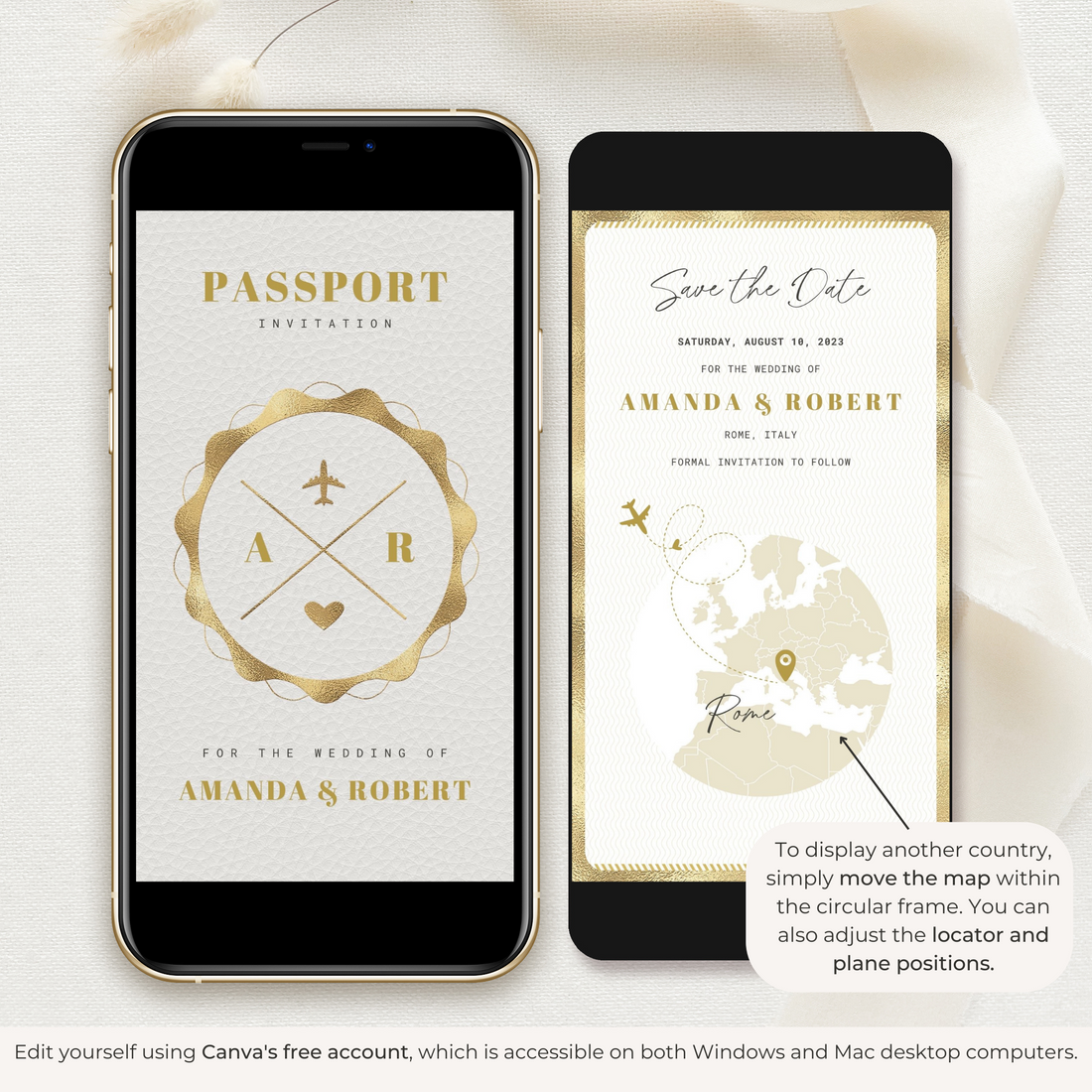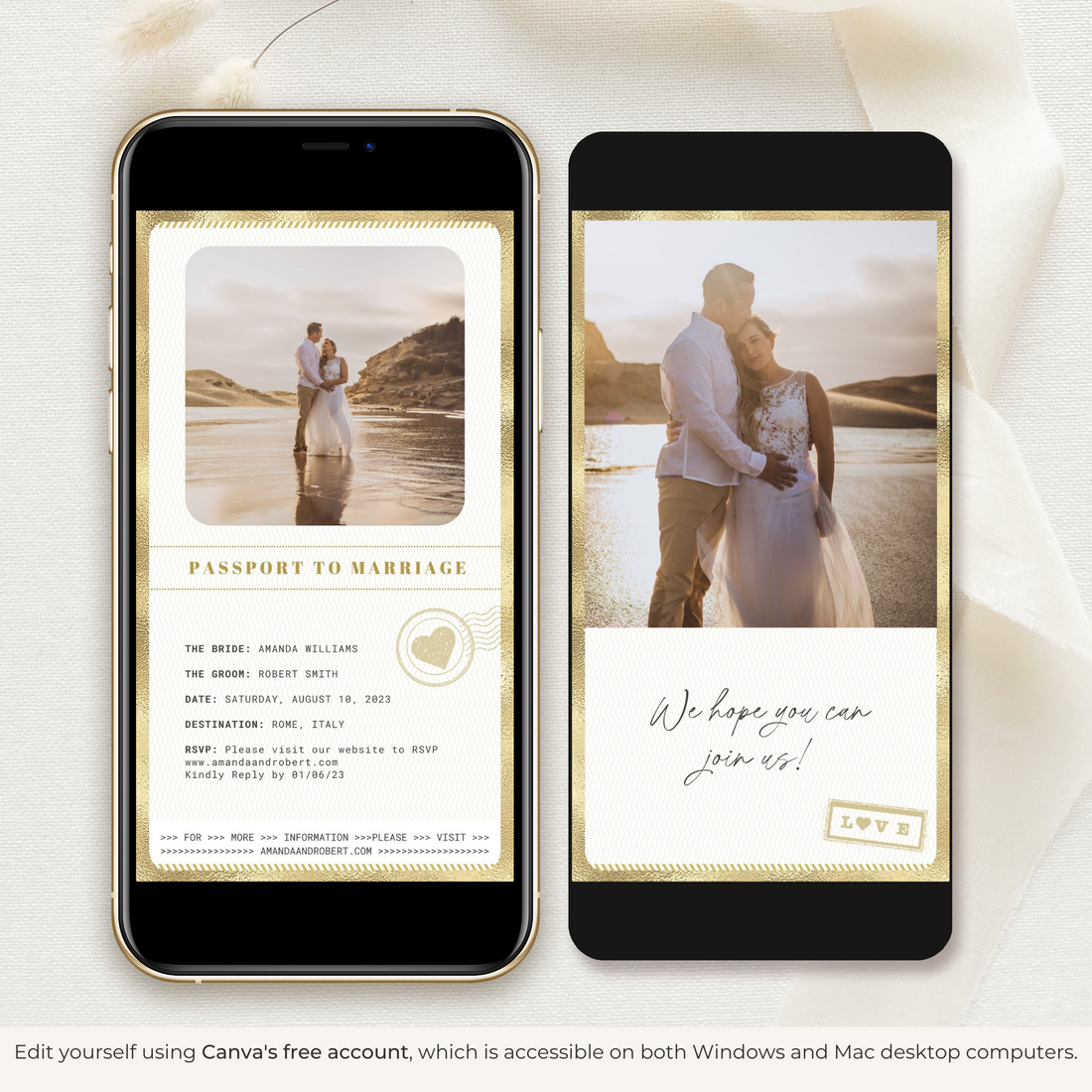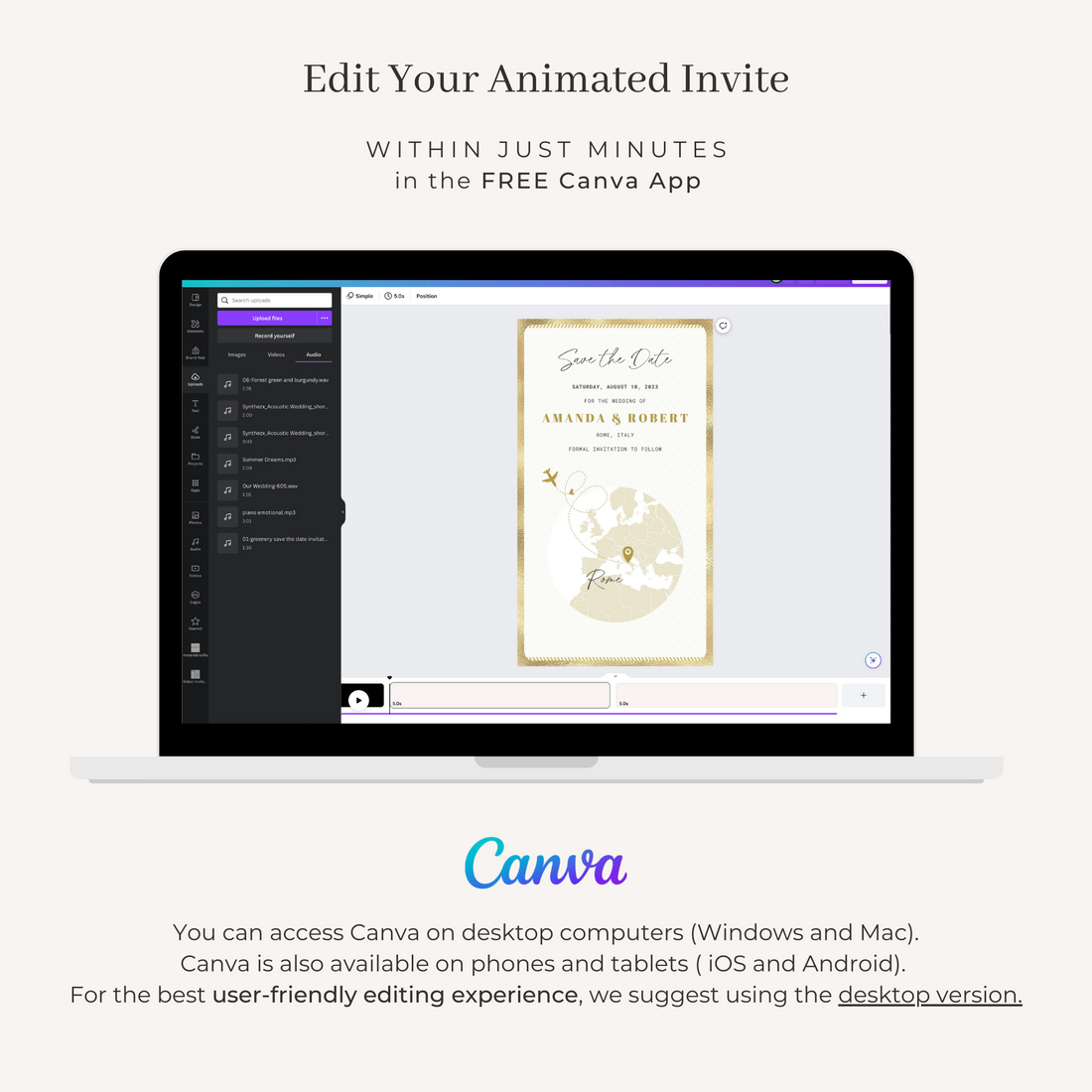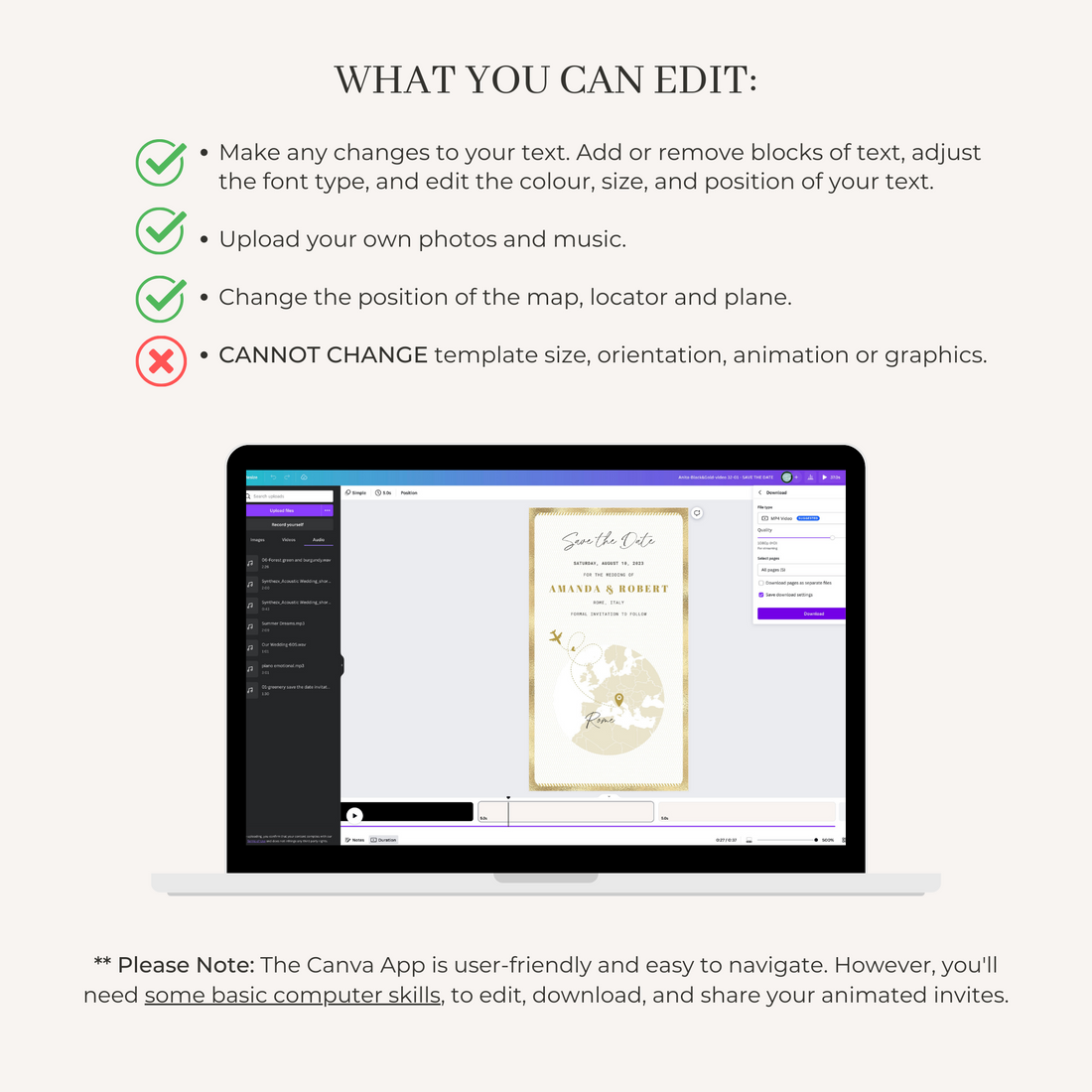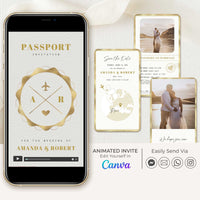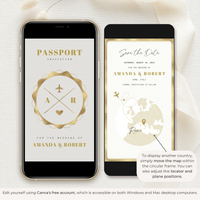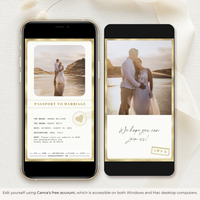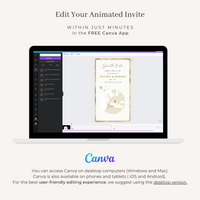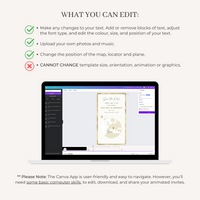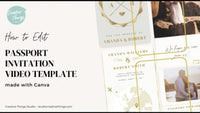 SOFIA Destination Wedding Save the Date Video Template
Engage your guests in the essence of your destination wedding right from the moment they receive your invitation. Our sophisticated passport-style wedding save-the-date video template is beautifully crafted with an elegant white and gold colour scheme, making it an ideal choice for travel-inspired weddings or destination celebrations.
With our easy-to-edit video template, you can effortlessly bring your vision to life. With just a few clicks, you can customize the text, add your own images and music to match your unique style and love story. There's no need for advanced design skills or expensive software – simply modify the template within Canva Free App and create a captivating video that will leave a lasting impression on your friends and family.
You can easily access Canva's free app on your desktop computer, smartphone, or tablet without requiring a pro version.
▶ WHAT YOU CAN EDIT
✅ Make any changes to your text. Add or remove blocks of text, adjust the font type, and edit the color, size, and position of your text.
✅ Add your own images and music
✅ Change the position of the map, locator and plane.
🚫 Cannot change template size, orientation, animation or graphics.
1. Purchase this listing. Following the successful transaction, a confirmation email will be sent to you, containing a direct link to download a PDF file.
2. Open the PDF file and click on the link provided to copy the template to your Canva account.
If you don't have a free Canva Account, you'll need to create one first. Once you have access, you can edit the template and download it in MP4 format.

3. Send it via email, WhatsApp or social media.

***Just a heads up: If you're using an iPhone to send a video invitation to an Android device, sending it as an MMS won't work. The video quality could become blurry for the recipient due to varying data capabilities among phone carriers.
❗Invitations sold on Creative Things Studio are for PERSONAL USE ONLY and cannot be resold for any reason.
Welcome to Creative Things Studio. When you choose to access and use our templates, you are agreeing to and are bound by the following terms and conditions. Please read them carefully.

• PERSONAL USE: All templates provided by Creative Things Studio are for personal use only. You are granted permission to access, save, and use the templates, but any commercial use, including selling, distributing, or repurposing for commercial endeavours, is strictly prohibited.

• ONE-TIME USE: The acquisition of a template implies it's for a singular application. While you are free to modify, save, and download your chosen template for proofing, creating varied editions for multiple events is not allowed.
• RETURN & EXCHANGE: We do not offer refunds or exchanges for digital products. Please feel free to contact us before purchasing if you have any questions!

• CONTENT USAGE: The content, graphics, or templates from Creative Things Studio is available to you solely for personal endeavours. Any form of republication, distribution, resale, or other unauthorized uses are prohibited. Reproduction of any part of the content, description, or template in any medium is not allowed.

• RIGHTS: Creative Things Studio retains the full authority to withdraw access to any template for users who do not adhere to these terms and conditions.

• COPYRIGHT: All items, descriptions, and other materials in the shop are under the copyright of Creative Things Studio. It is strictly forbidden to replicate or reproduce them in any way. Invitations and templates available for purchase are solely for personal use and must not be resold under any circumstances. All designs, graphics, and other intellectual properties belong exclusively to Creative Things Studio unless otherwise noted. For any graphics or assets that are not the original work of Creative Things Studio, appropriate licenses have been secured for their presentation in the file preview.

© Creative Things Studio. All rights reserved.
What is Canva?  Canva is an online design platform that can be accessed through desktop, tablet, and mobile apps. It offers a plethora of design options for a variety of products.
Can I edit from my phone or tablet? You can access the Canva App on your desktop computer, smartphone, or tablet without requiring a pro version. Canva is available on a variety of platforms, including Windows, Mac, iOS, and Android.
For the best user-friendly editing experience, we suggest using the desktop version.
Do I have to download fonts or software? No need to download any fonts - Canva is a web-based platform that already includes a variety of fonts. To edit the template on your phone or tablet, you'll need to download the Canva App, which is available for free.
What can I edit? You can edit any text, this includes adding or deleting content, adjusting the font, color, size, and position. Upload your own photos and music.
What CAN'T I change? The animation and the graphics are not editable. The template size and orientation can't be changed. Test the FREE SAMPLE video template to see what you can customize!
Can I add a clickable link to my video invite? At present, it's not possible to include clickable links in video files. However, you can use the wedding website card to add any necessary links.
What methods can I use to send the PDF for the wedding website card? You have the option to send your PDF through WhatsApp or email. However, please note that there are certain restrictions when using text messaging for this purpose. Specifically, PDF attachments can only be sent from an iPhone to another iPhone. Sending a PDF from an iPhone to an Android device is not supported at this time for document transfers.
Can I remove the photo from the invite? Yes, it is possible to remove the photo page in Canva and keep only the slides with text for your invite. Just delete the page containing the photo.
Can I resell the templates I purchased from Creative Things Studio in my own stationery shop? Invitations sold on Creative Things Studio are for PERSONAL USE ONLY and cannot be resold for any reason.
SAVE TIME & HASSLE
Say goodbye to licking and sticking envelopes, writing addresses, and physically mailing out your invites. With just a few clicks, you can instantly edit your animated invite after purchase, download it, and send it out via WhatsApp, email, or share on social media. So you can focus on enjoying your engagement and planning the rest of your wedding.
EFFORTLESS
Designing your own animated wedding invite has never been easier with our Canva's video template. 
Make the template truly yours by adding your own details, photos, and music with just a few clicks. No design experience is needed!
COST-EFFECTIVE
Avoid the expenses and time-consuming process of hiring a professional designer. An Animated Invitation Template allows you to create a breathtaking announcement that rivals bespoke designs without breaking the bank.
EDIT YOUR-SELF
ANIMATED INVITE TEMPLATE
Easily customize your animated invite template using Canva.com's online editor. The editor is accessible from your desktop computer, as well as your mobile and tablet devices.
HERE'S HOW IT WORKS:
MAKE IT YOURS - As soon as you buy your video template, you can start customizing it! Just head over to Canva.com using a browser on your desktop computer, or the Canva App on your mobile or tablet and you'll be able to change the text, typography and colours and even add your own picture and music. It's a breeze and happens in a snap! 

DOWNLOAD - Once you're happy with your creation, download your video in mp4.

SHARE THE JOY - Time to get the word out about your event! Share your fabulous animated invite with friends and family through email, WhatsApp, or social media. It's the easiest and most personal way to connect with everyone on your guest list.