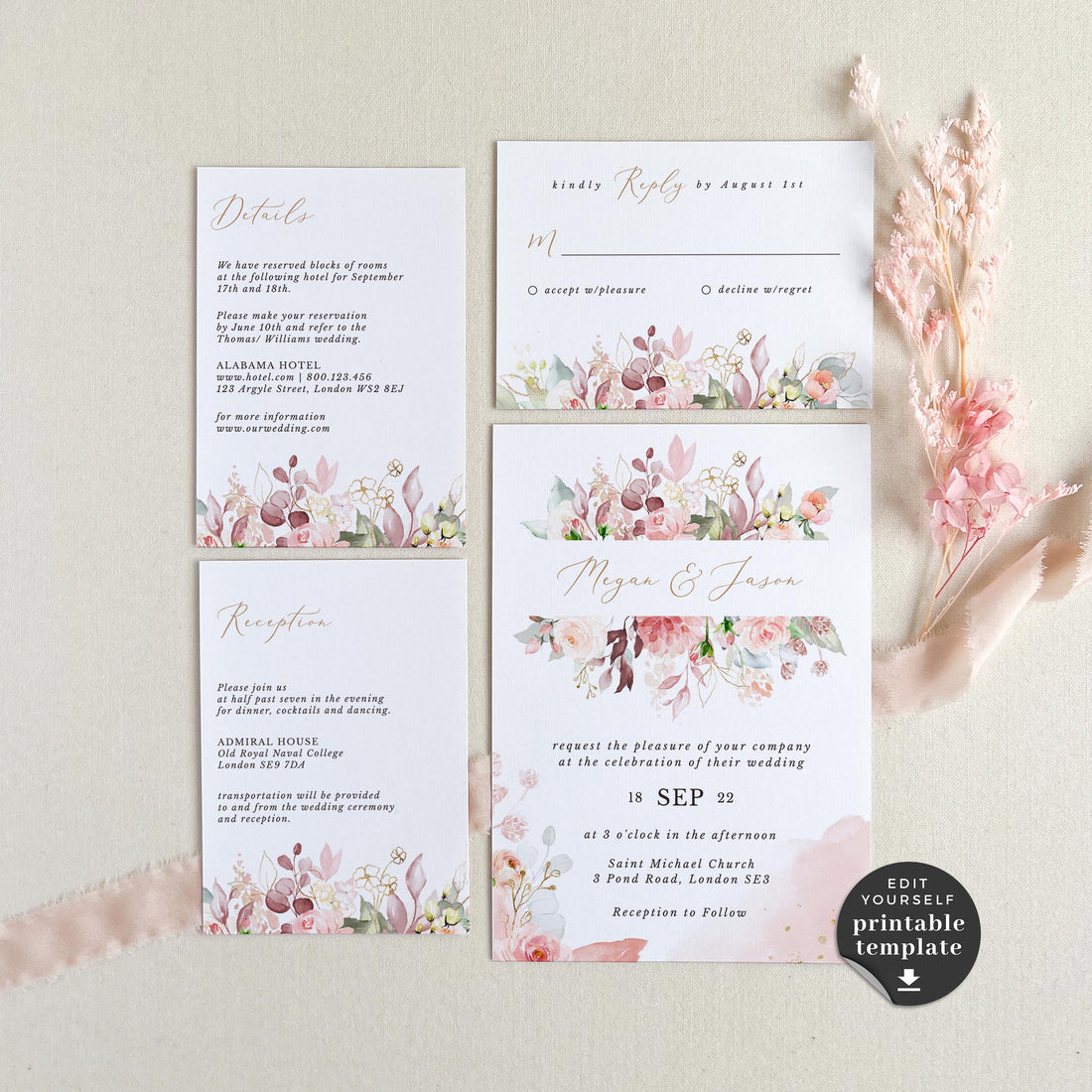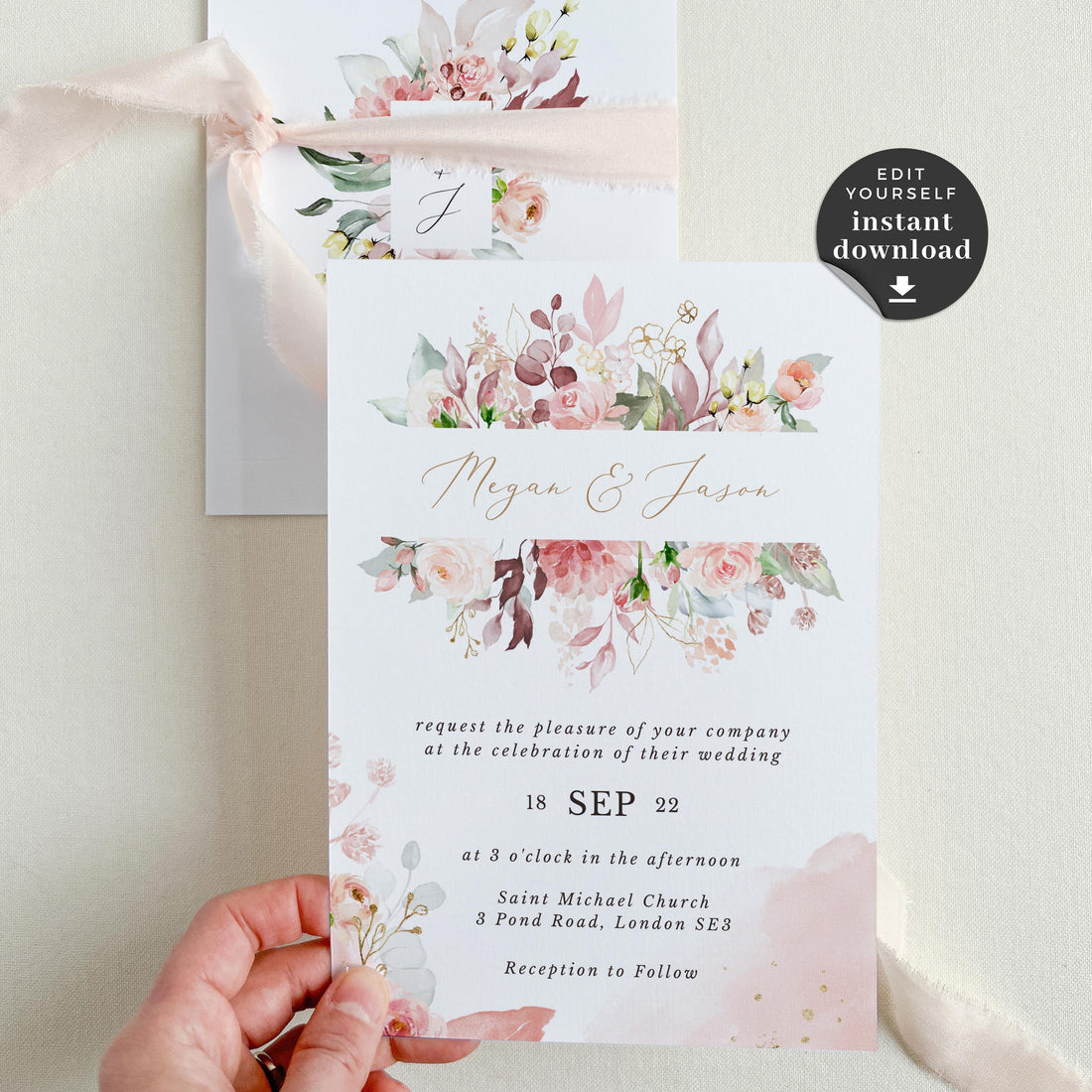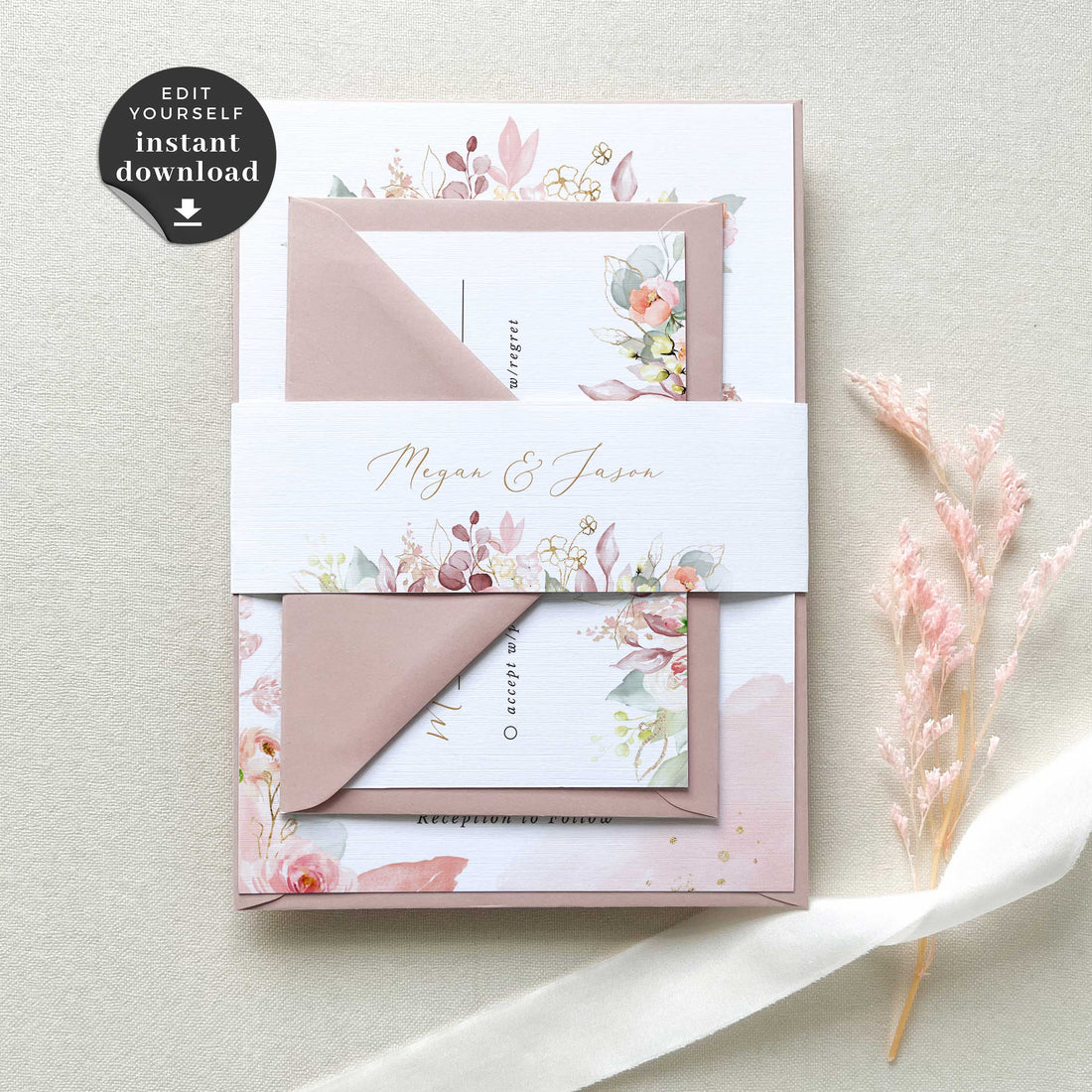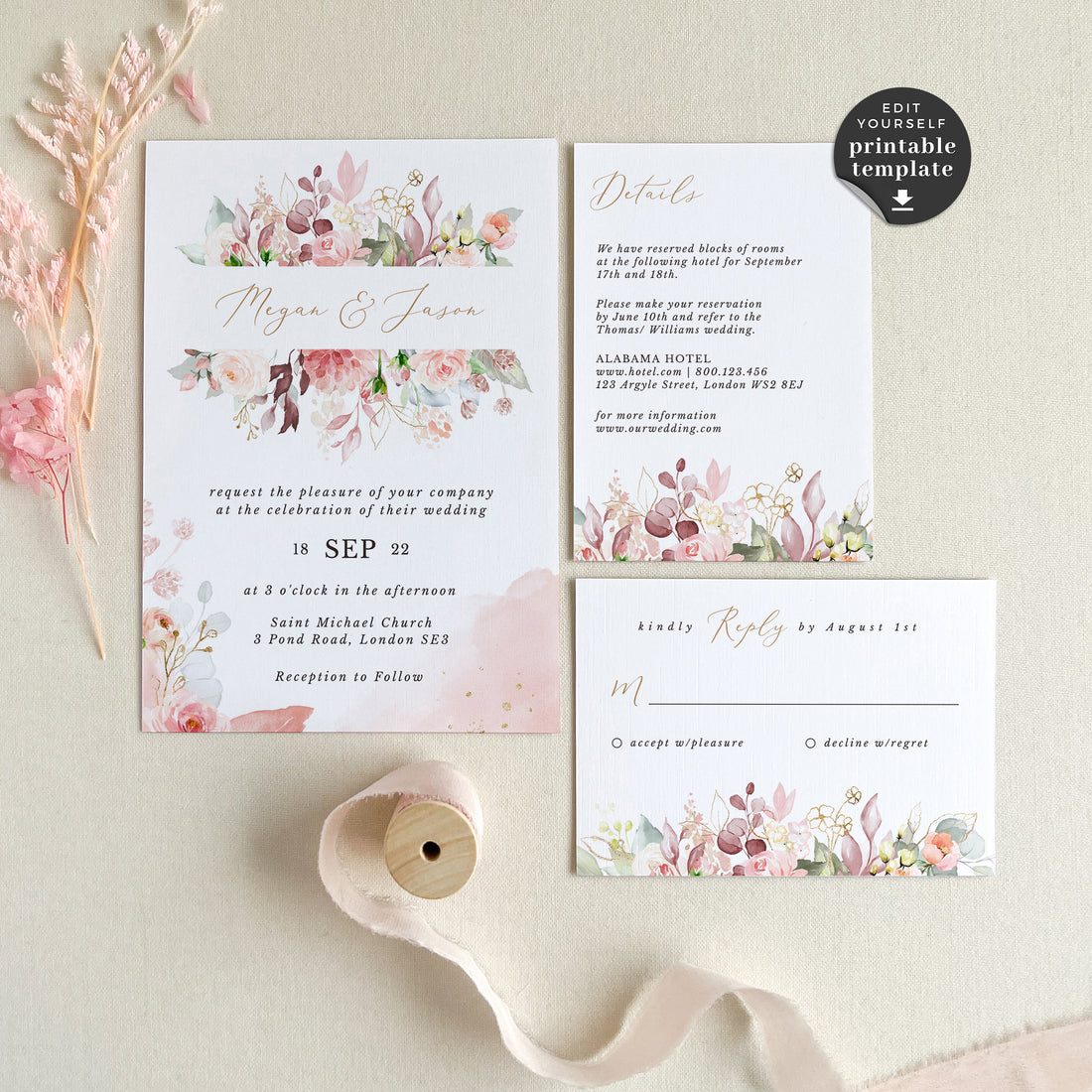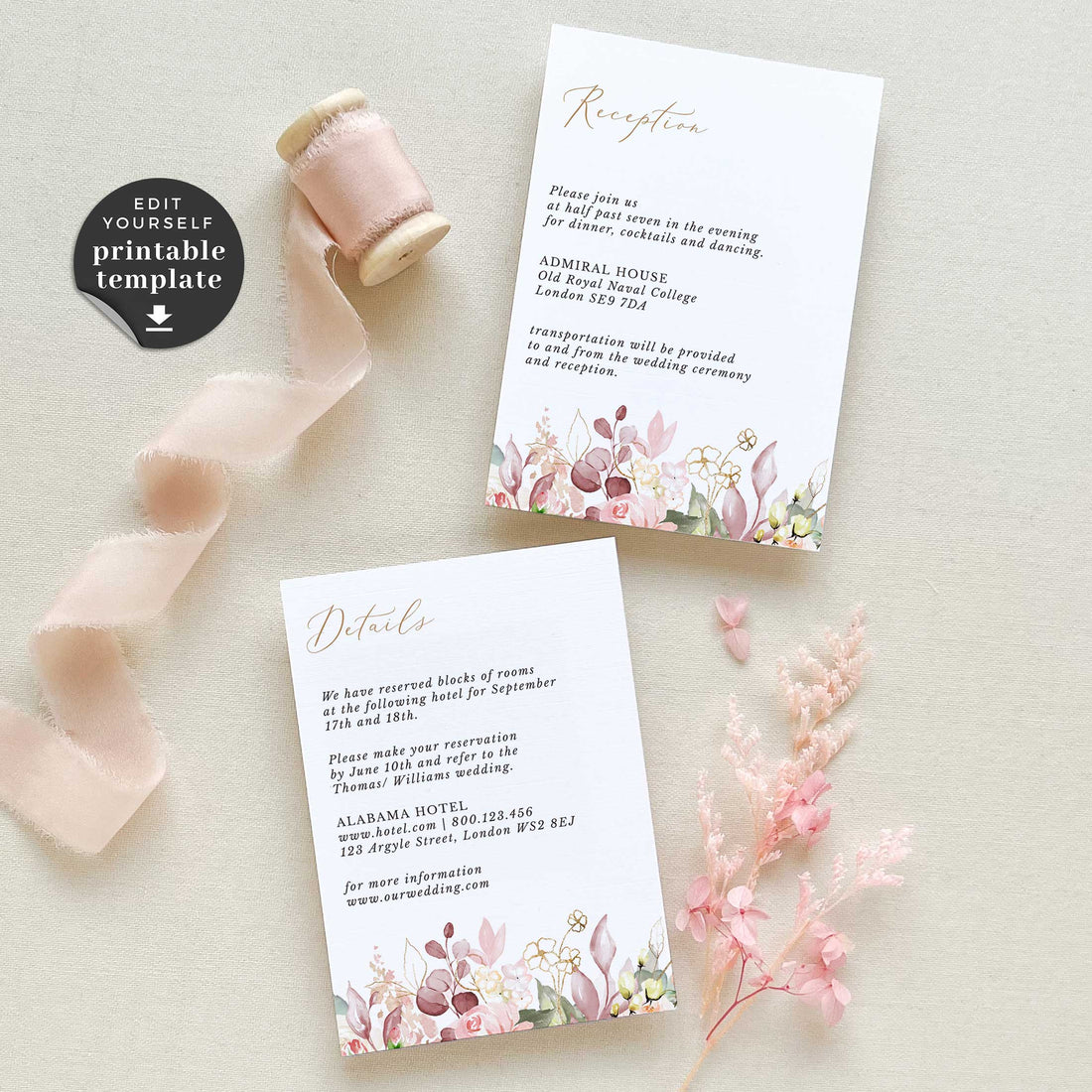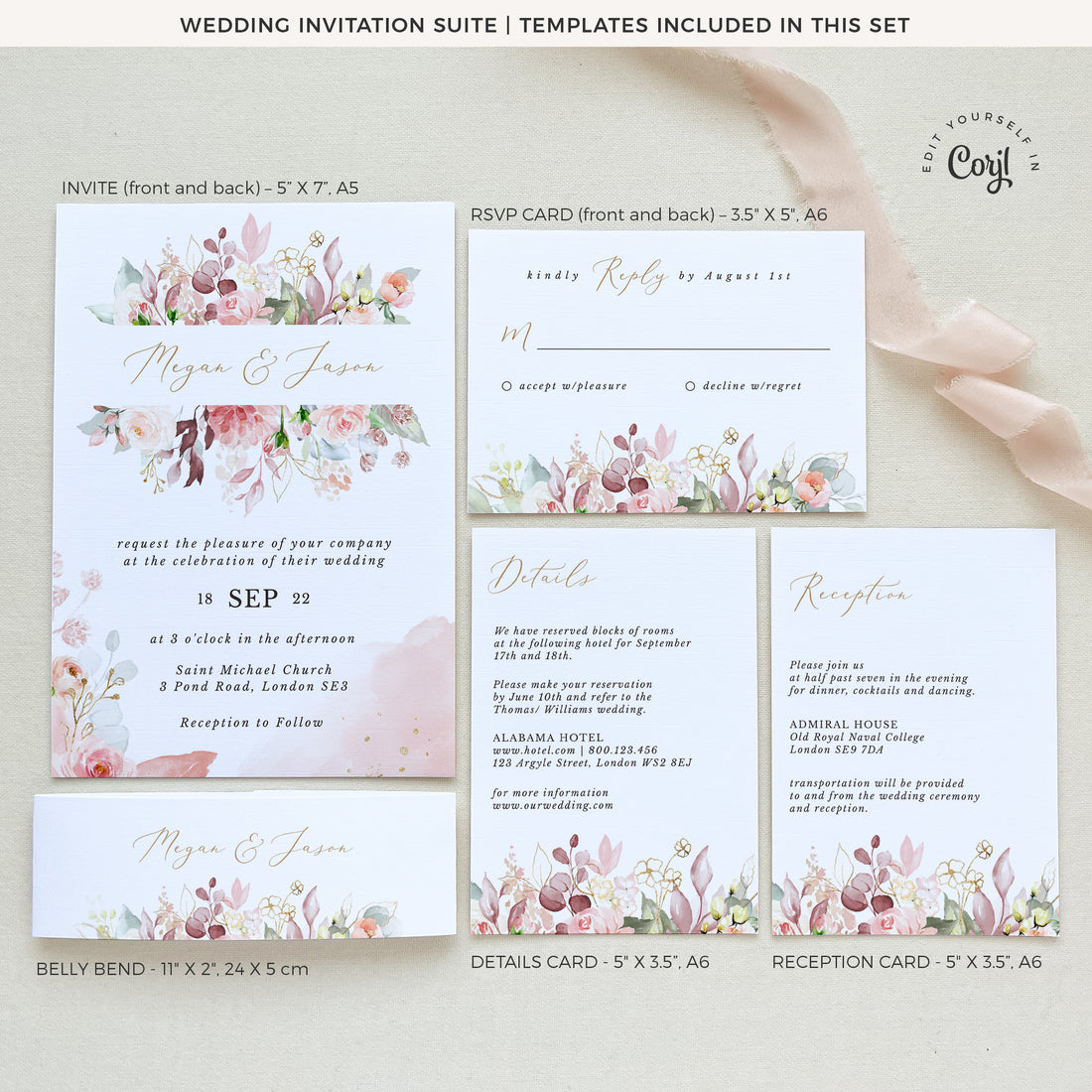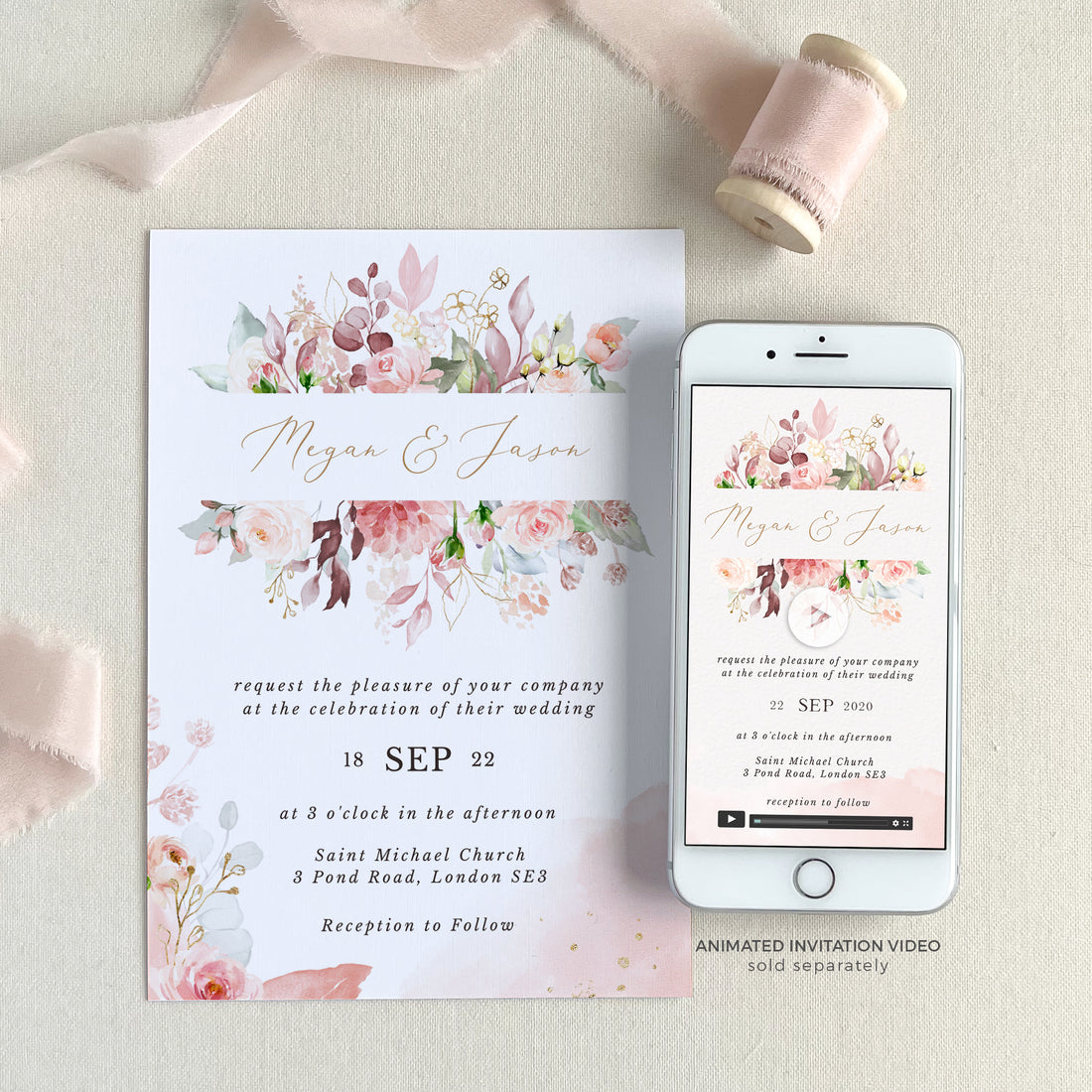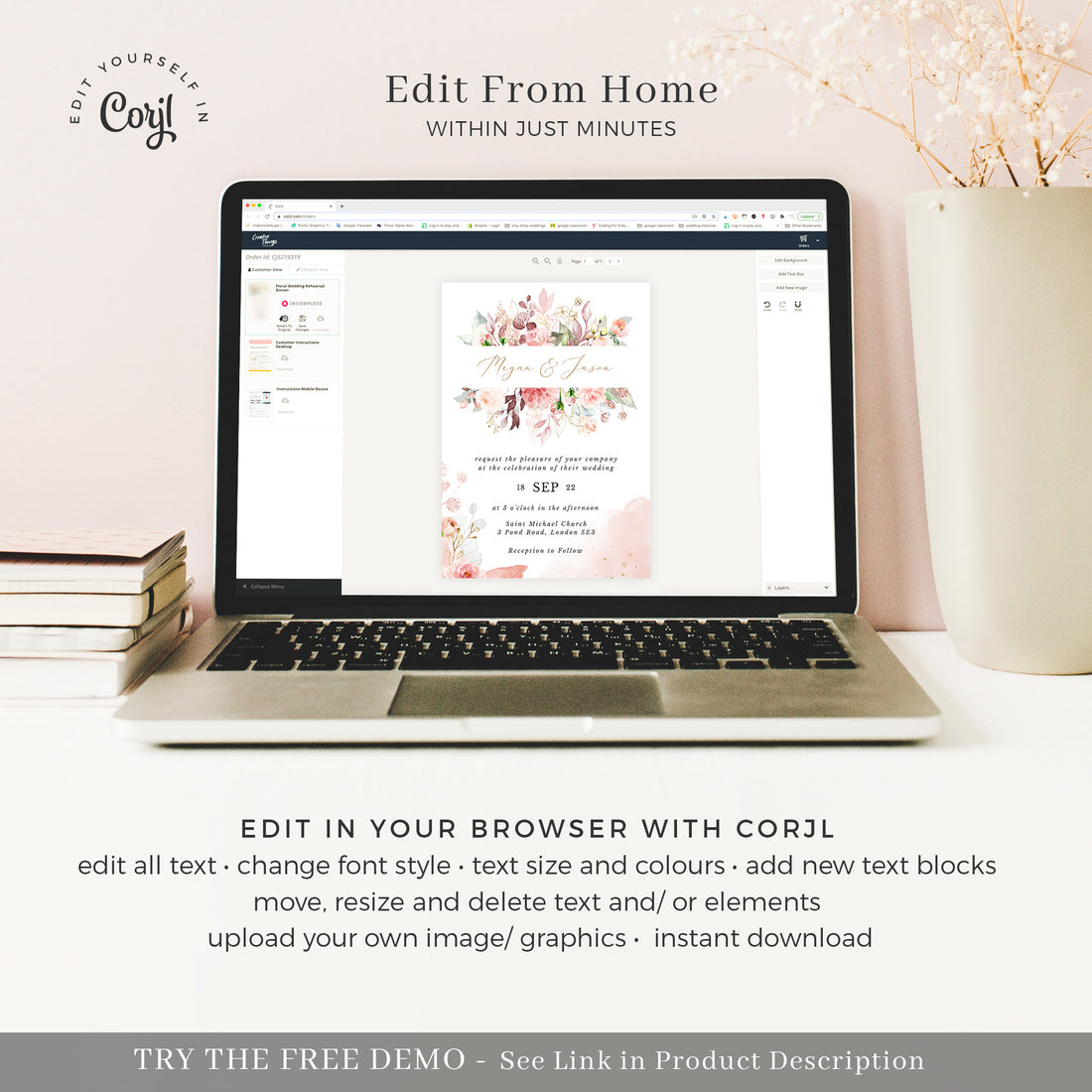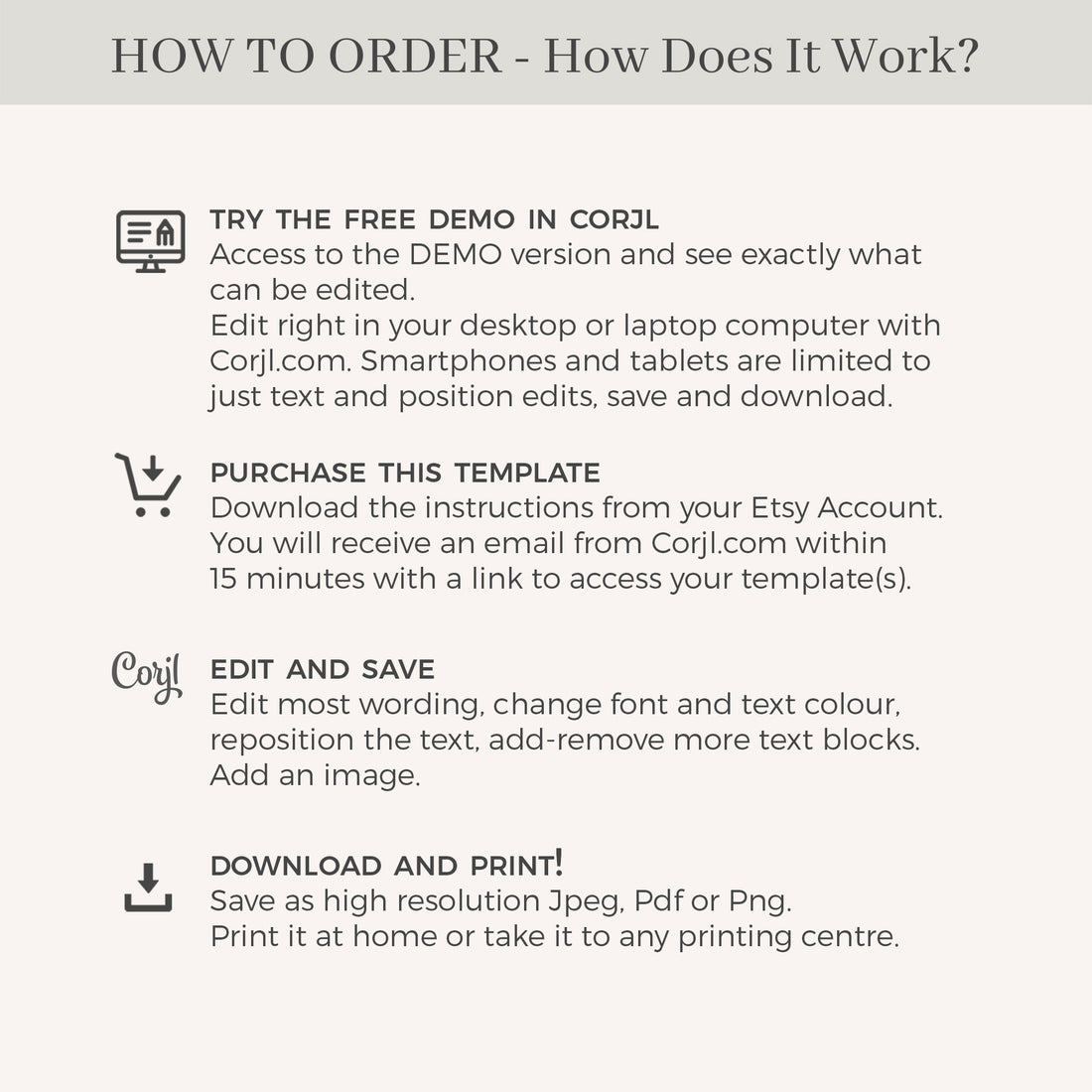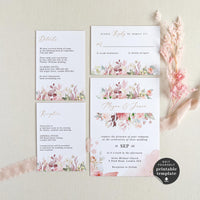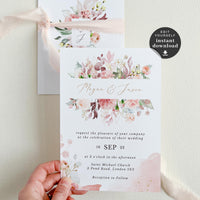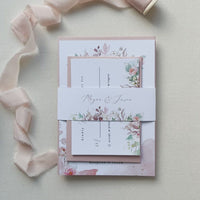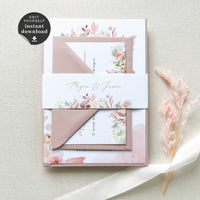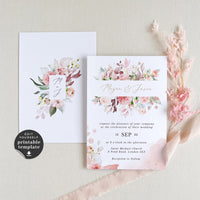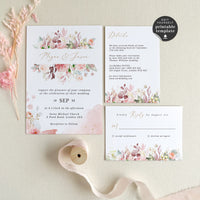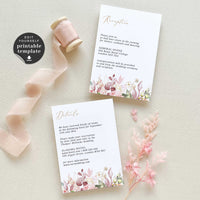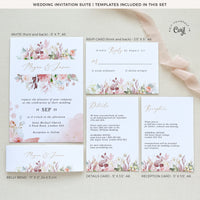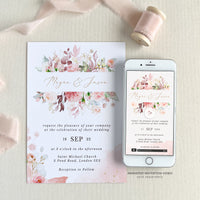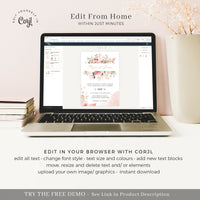 Fiorella | Romantic Wedding Invitation Set Template
Our Fiorella wedding invitation suite template will make your guests excited for the big day! Customise the wording, fonts and colours to perfectly fit your theme. The template has a free demo, so you can test it before buying.
With this printable wedding invitation template, you don't need to be tech-savvy to create a beautiful romantic wedding invitation suite. 
Please read below for what's included and how it works!
After your purchase, you'll receive a link to self-edit the template within 15 minutes. No software is required. This is a digital product, and no physical item will be shipped. Try the FREE DEMO below!
Shop all stationery from the Fiorella Collection.
US formats (inch)
• Wedding Invitation (front & back) – 5 x 7"
• RSVP Card (front & back) – 5 x 3.5"
• Reception Card – 3.5 x 5"
• Details Card – 3.5 x 5"
• Belly Bend - 11" x 2"

EU/AU formats (mm)
• Wedding Invitation (front & back) – A5: 148x210 mm
• RSVP Card (front & back) – A6: 148x105 mm
• Reception Card – A6: 105x148 mm
• Details Card – A6: 105x148 mm
• Belly Bend - 350 x 55 mm
Purchase your template. You will receive an email from Corjl with a link to access your template within 15 minutes.
Edit the text, add your own image and proofread each template. Save and download your design as a JPG, PNG or PDF.
Print at home, send to a local printer or order online through our partner Prints of Love.
WHAT YOU CAN EDIT
✅ Make any changes to your text. Add or remove blocks of text, adjust the font type, and edit the color, size, and position of your text.
✅ Add your own images and graphics.
Templates are available for editing 365 days after purchase—no Download Limit. 
🚫 Cannot change template size, orientation or graphics.
❗ If you use a mobile device or tablet, you can only edit text, add an image, and download the edited version. For the best editing experience, we recommend using a desktop or laptop computer with the Google Chrome browser.
For the best quality, we recommend printing with a professional service.
• US CUSTOMERS:
Our shop has partnered with PRINTS OF LOVE to offer fast, high-quality yet affordable printing. Plus free 2-3 day U.S. shipping and free envelopes!
> Save your files as PDF with slow bleeds selected, so the quality is very high and the text will remain perfectly sharp.
Simply visit this link to send your file to PRINTS OF LOVE.
Get 10% OFF with code: CREATIVETHINGS10
Or you can send your PDF to a print center like Vistaprint, COSTCO, Office Max, Office Depot, Walgreens, Staples, FedEx Office and many more. Please check with them what format they prefer.
• UK CUSTOMERS:
If you are looking for a special place to print your wedding stationery in the UK we recommend PRINTED.COM. They offers a wide range of paper quality and foil finish options, so you'll be sure to find the perfect combination for your special day.
> Save your files as PDF with slow bleeds selected.
• INTERNATIONAL CUSTOMERS:
Print your templates with Vistaprint, they can print and deliver to 45 countries, or with a local print center.
• PRINTING AT HOME
You can also print at home (with options to print multiple cards per US Letter or A4 sheet). Choose the download option PDF + "Show Bleed and "Show Trim Marks". Select the option "Print Multiples Per Page if Possible" this will print multiple copies per page. Recommended to print on high-quality stock paper. Select a stock of at least 100lb or more.
Welcome to Creative Things Studio. When you choose to access and use our templates, you are agreeing to and are bound by the following terms and conditions. Please read them carefully.

• PERSONAL USE: All templates provided by Creative Things Studio are for personal use only. You are granted permission to access, save, and use the templates, but any commercial use, including selling, distributing, or repurposing for commercial endeavours, is strictly prohibited.

• ONE-TIME USE: The acquisition of a template implies it's for a singular application. While you are free to modify, save, and download your chosen template for proofing, creating varied editions for multiple events is not allowed.
• RETURN & EXCHANGE: We do not offer refunds or exchanges for digital products. Please feel free to contact us before purchasing if you have any questions!

• CONTENT USAGE: The content, graphics, or templates from Creative Things Studio is available to you solely for personal endeavours. Any form of republication, distribution, resale, or other unauthorized uses are prohibited. Reproduction of any part of the content, description, or template in any medium is not allowed.

• RIGHTS: Creative Things Studio retains the full authority to withdraw access to any template for users who do not adhere to these terms and conditions.

• COPYRIGHT: All items, descriptions, and other materials in the shop are under the copyright of Creative Things Studio. It is strictly forbidden to replicate or reproduce them in any way. Invitations and templates available for purchase are solely for personal use and must not be resold under any circumstances. All designs, graphics, and other intellectual properties belong exclusively to Creative Things Studio unless otherwise noted. For any graphics or assets that are not the original work of Creative Things Studio, appropriate licenses have been secured for their presentation in the file preview.

© Creative Things Studio. All rights reserved.
What is Corjl? Corjl is an online editor where you can edit your templates easily. Corjl also gives you a chance to try your wording on a Demo of the product itself. You can find the Demo Link next to every item in the product description.
Can I edit from my phone or tablet?Yes, you can edit your template right from your phone or tablet, but please note that if you are personalizing an item on a mobile/ tablet device, you are limited to only replacing the text and images.
You will need to use a desktop or laptop computer to access additional features.
Also, please note that Google Chrome is the recommended browser for using Corjl. Some features may not show up or be available in other browsers.
Do I have to download fonts or software? No, you don't have to download any fonts or software.
The template editing tool, Corjl, is web-based, and fonts are included.
You will only download your print-ready file at the end!
What Can I change? With Corjl, you can edit all the texts, font type and colour, size and position, add and remove text boxes. Add your own images. Once you're happy, you can save your creation as a high-resolution JPG, PNG and PDF.
What can not I change? You cannot change size and orientation. The sizes are standard US / EU sizes to fit envelopes. Please note the size of each template is in the product description. You cannot change the colours of the graphics.
Test the FREE DEMO to see what you can customize!
Where can I print? For details on suitable printing options, please consult the "Where to Print" section provided above in this FAQ.
Why do certain colours look different after they print? We always try to match on-screen colours (RGB) to printed colours (CMYK) as close as possible, although sometimes slight color variation may occur based on the calibration of your monitor.
I recommend doing test prints before printing in bulk.
What is a good paper weight to print wedding invitations? Recommended to print on high-quality stock paper. Select a stock of at least 100lb or more. Though most consumer-grade home printers can handle 80lb (216gsm) to 100lb (270gsm) cardstock, not all can. All printers are different, so be sure to do your research and consult your printer manual for card stock printing information and recommendations.
PEACE OF MIND
Take the stress out of your wedding with our printable templates. We know that your time and money are precious, which is why we've created one-of-a-kind editable templates that you can easily personalize and print yourself. Get a sophisticated and professional design without the hefty cost of hiring a graphic designer.
MAKE IT PERSONAL
Make your special day truly about you by creating personalized wedding stationery that reflects your unique personality and style. Feel free to edit the text, typography, and colours to add that personal touch that will make your wedding stationery truly one-of-a-kind.
COHESIVE THEME
Easily coordinate your wedding stationery with a consistent theme and design, avoiding the hassle of hunting for mismatched pieces. This attention to detail will showcase your exceptional taste and leave a lasting impression on your cherished guests.
EDIT YOUR-SELF
Printable Templates
Easily personalize after purchase using the Corjl online editor from your desktop computer.
Here's how it works:
MAKE IT YOURS - As soon as you buy your template, you can start customizing it! Just head over to Corjl.com using a browser on your desktop computer, and you'll be able to change the wording, typography and text and background colours and even add your own picture. It's a breeze and happens in a snap! Just a heads up, though – to access all features, it's best to use a desktop computer since there might be some limitations on phones or tablets.

DOWNLOAD - Once you're happy with your creation, save and download your design as a high-quality PDF, PNG, or JPG. And don't worry, there's no limit to the number of times you can download it.

PRINT - Print at home, send to a local printer or order online through our partner Prints of Love.
Files are available for editing 365 days after purchase—no Download Limit.