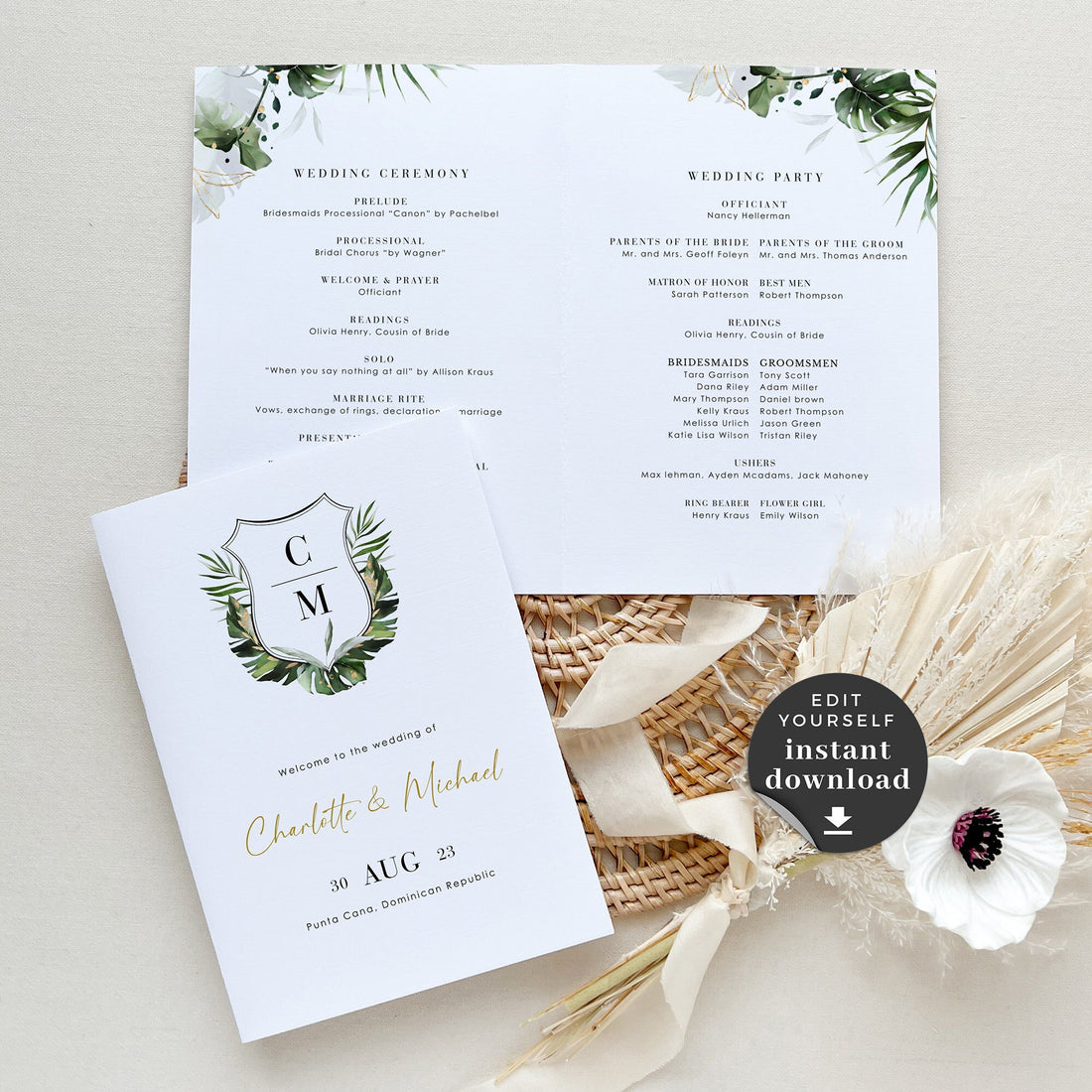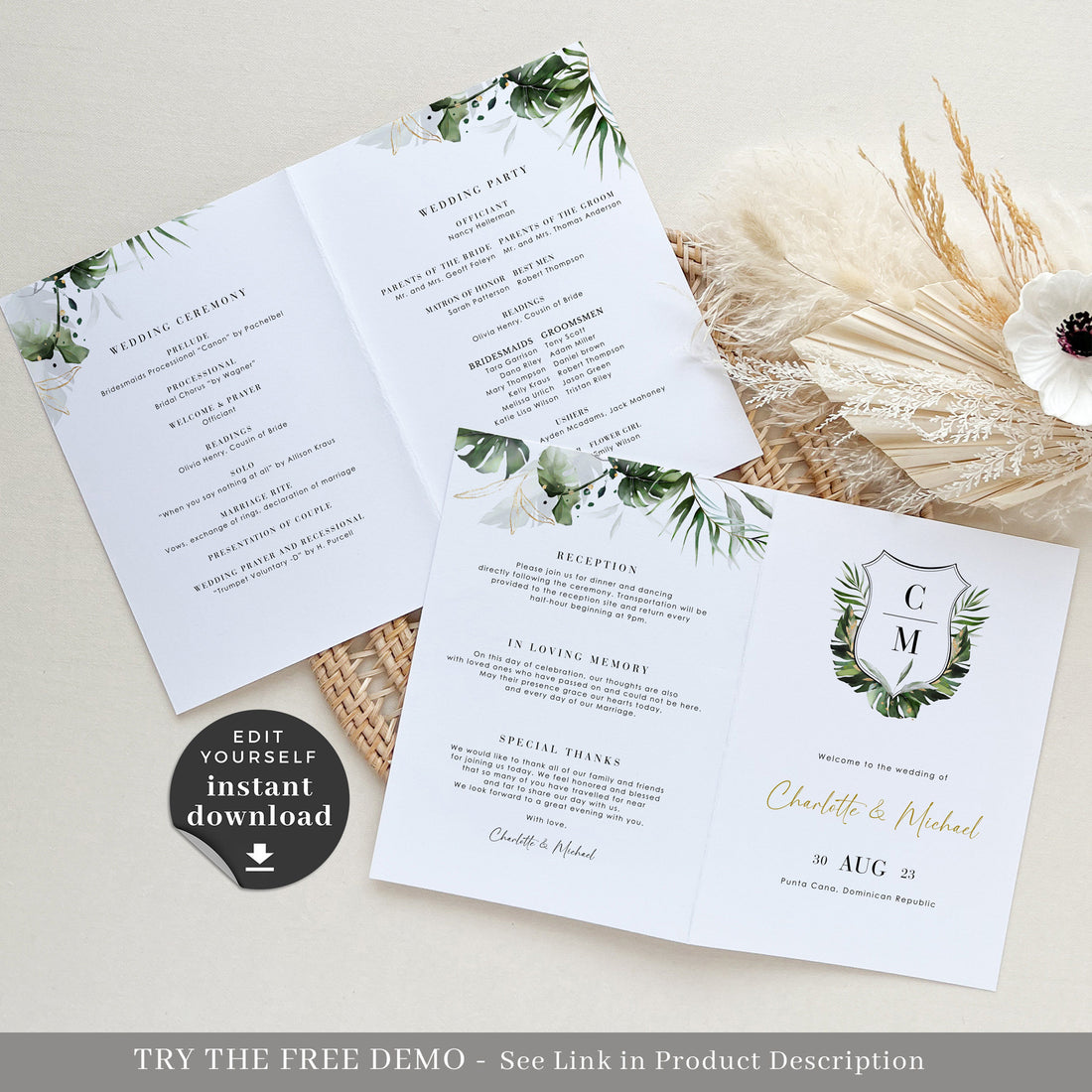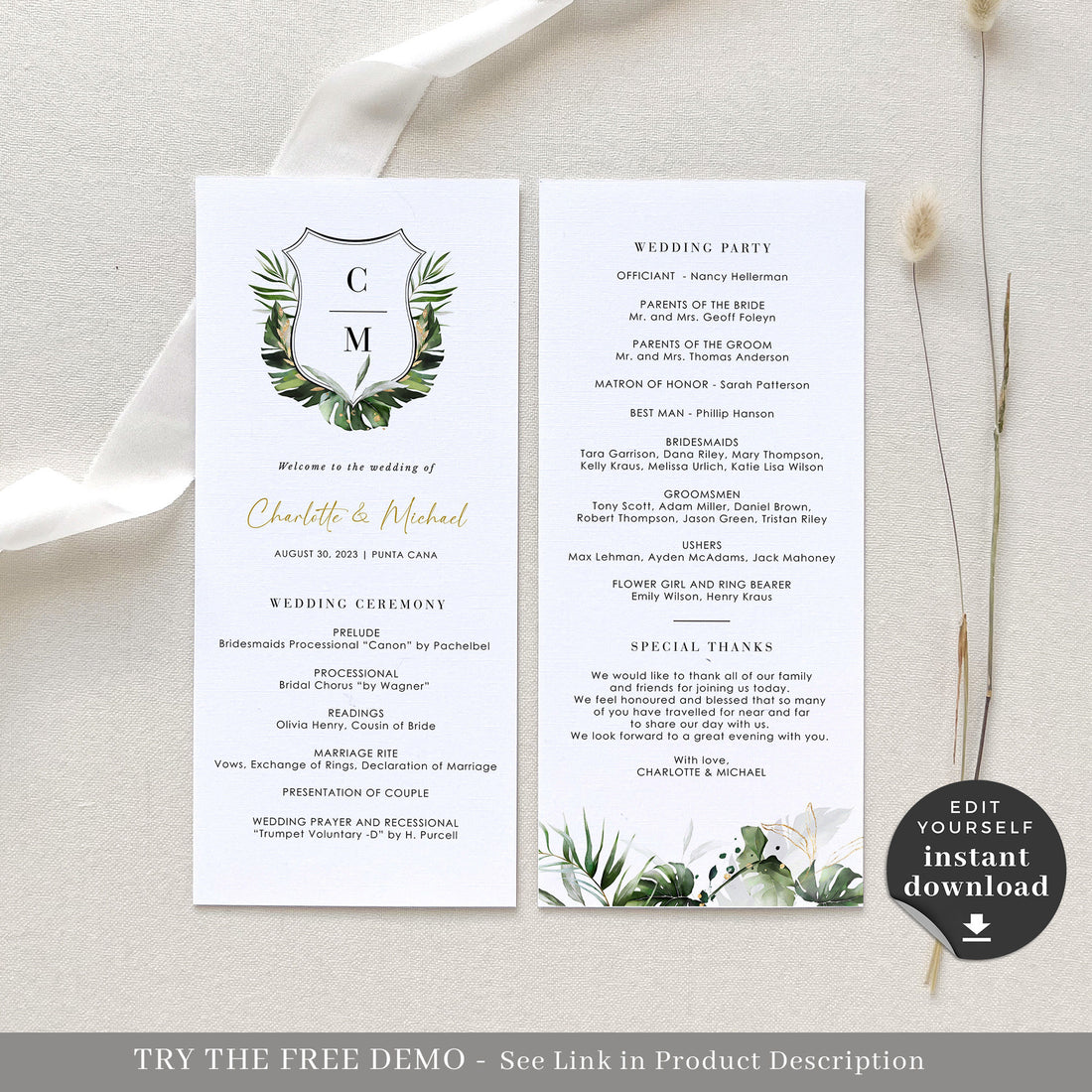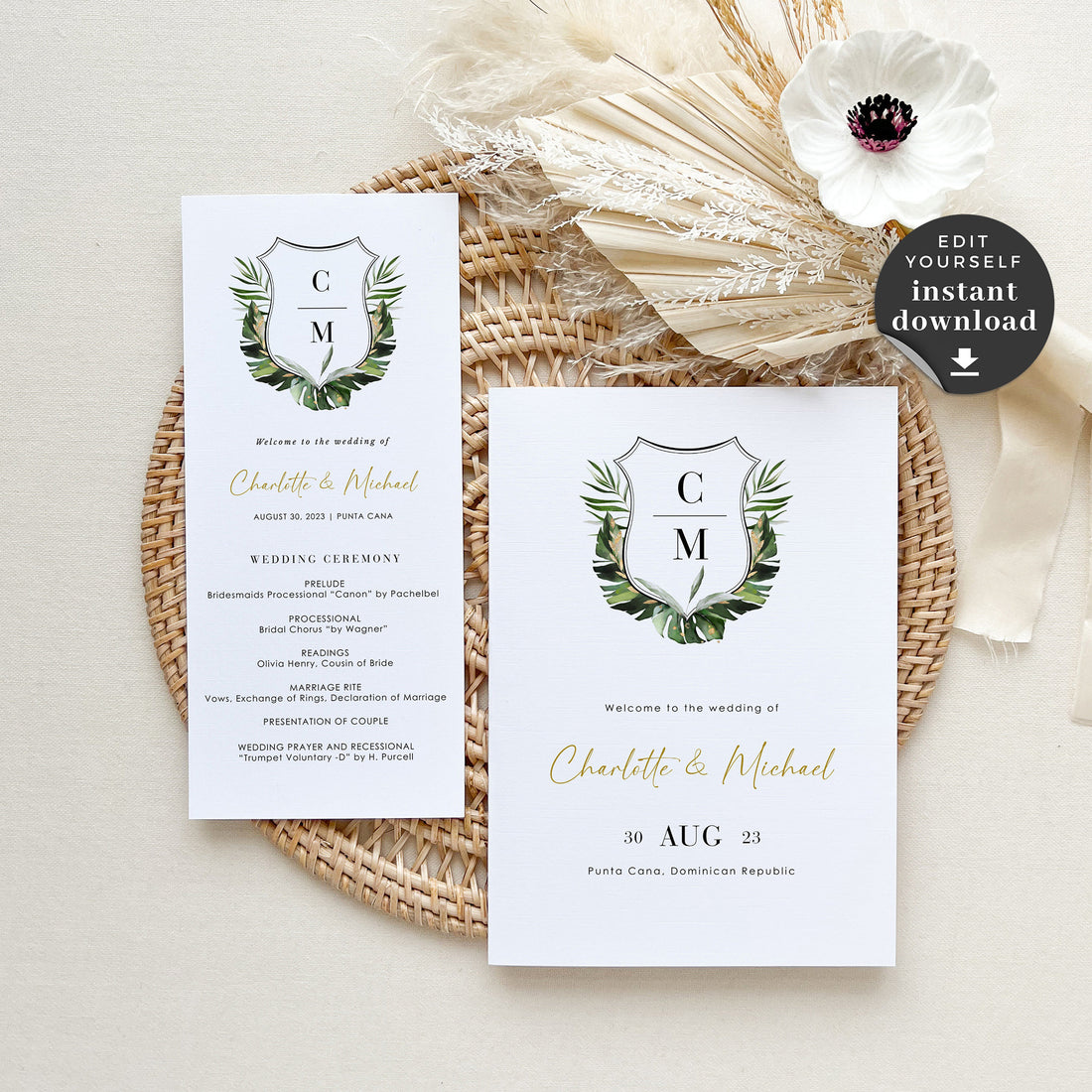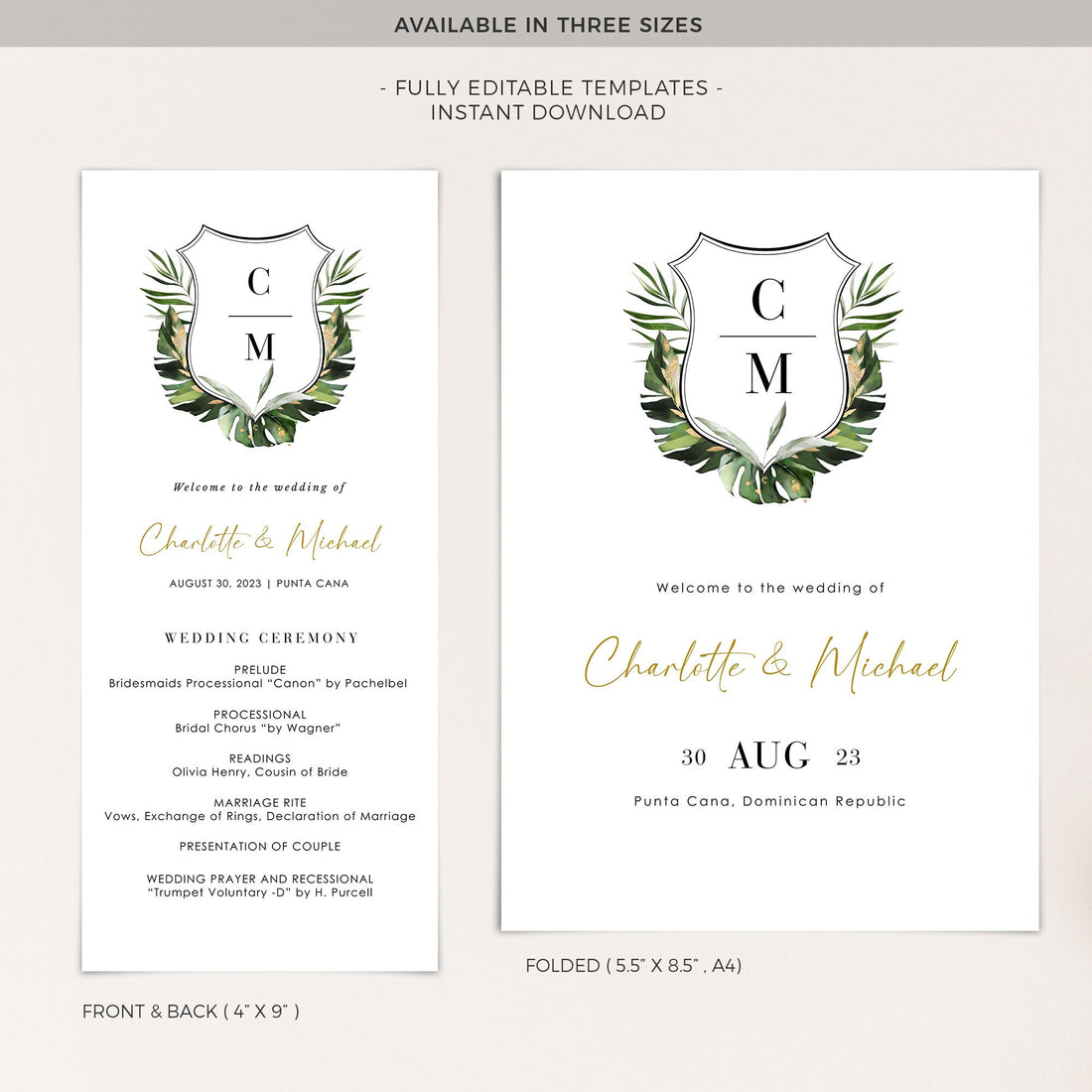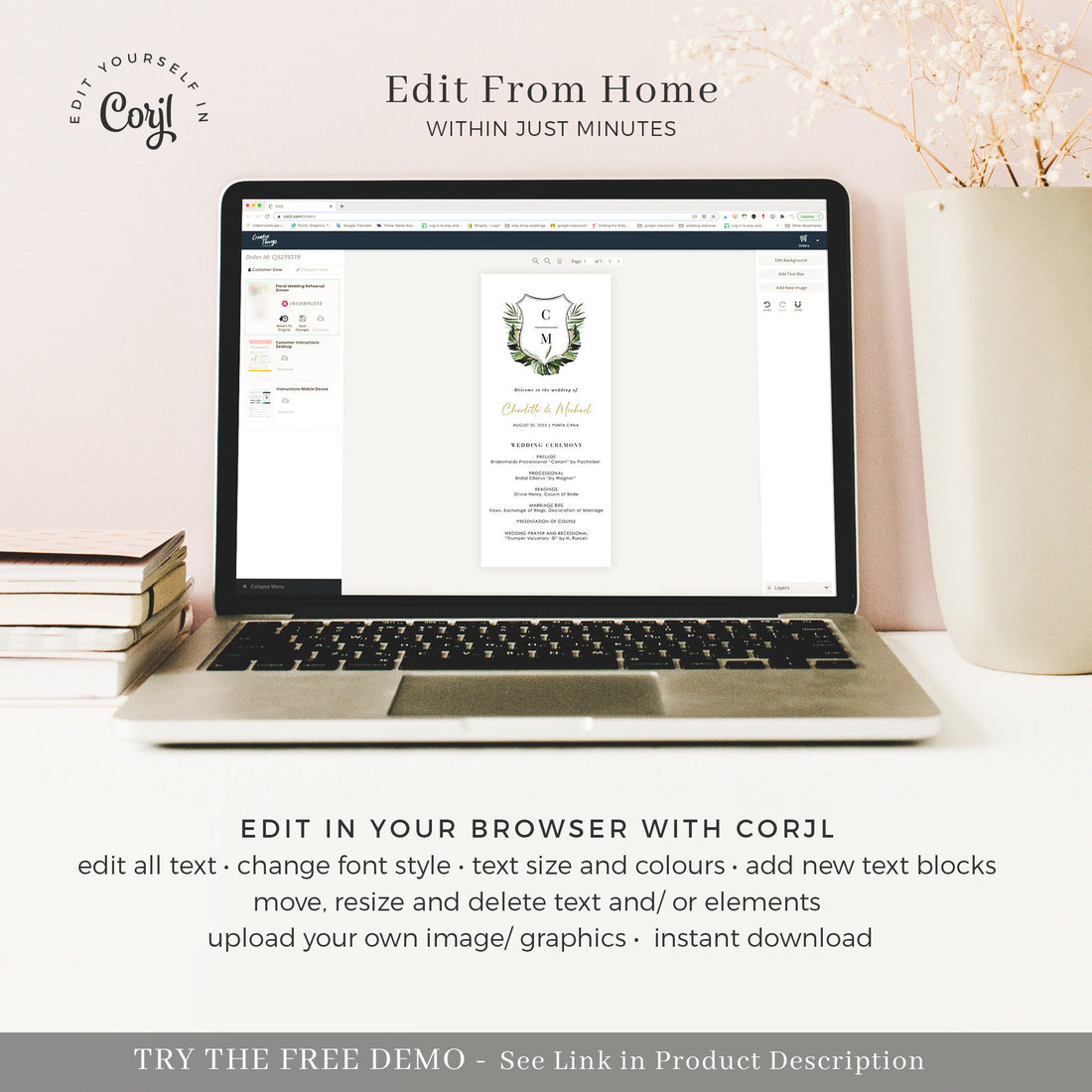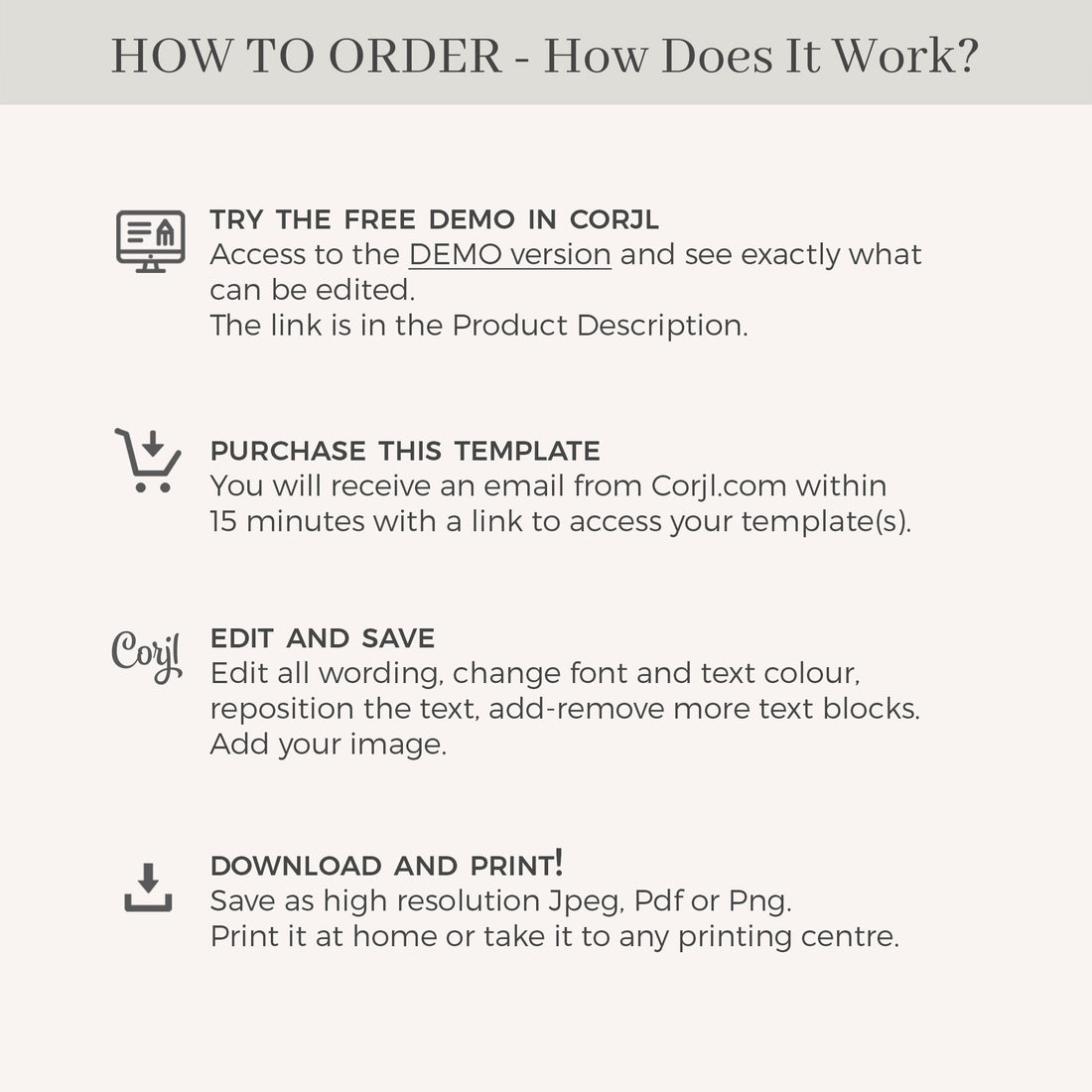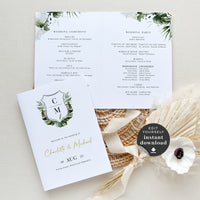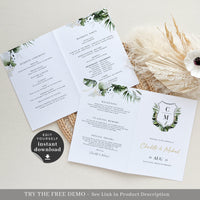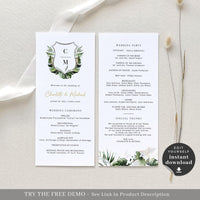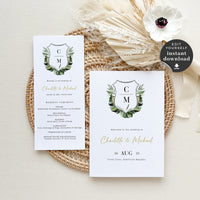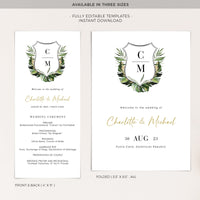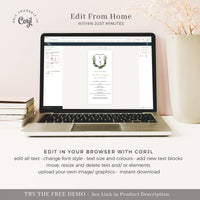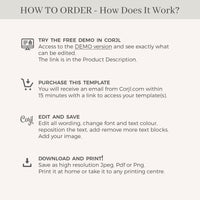 Template for Wedding Program Tropical
This charming tropical wedding program will guide your friends and family through the service to help them get the most out of the occasion.
With this template for wedding program, you can easily create beautiful booklets that perfectly reflect your personality and style.
Available in 3 sizes: 4" x 9" flat and 5.5" x 8.5", A4 folded. Please read below for what's included and how it works!
You will instantly access your design 15 minutes after purchase. Edit any text, font and text colour directly in your browser using Corjl's free online editor. Have fun with it, no designs skills are required.
Print at home or with any printing centre. This is a Digital Download. No physical item will be shipped. Try the FREE DEMO below!
Shop all stationery from the Tropical Collection
Access the DEMO version and see exactly what can be edited.
5 BUSINESS DAYS* to receive your invitation ( *Monday to Friday ).
Upgrade to RUSH ORDER for 48hrs delivery time. (This service is only available Monday to Thursday).
1. First, go ahead and buy the invitation. You will receive a confirmation email with a link to the "Order Form".
2. Fill out the form with all the important details you'd like to have in your invitation. Don't forget to send us via email your photo and music file (mp3, wav, or something similar) along with it. If you need some music inspiration, we've got an audio library you can check out.
3. In just a few days, we'll send you a digital proof of your invitation via email. If you have any tweaks or changes, just let us know!
4. Once you're happy with the design and give us the thumbs up, we'll send you an email with the link to download your stunning wedding invitation video.
Any Questions?
Contact Us: orders@studiocreativethings.com
• Your invite will look exactly like the preview you saw, but with your own information added. If you need any tweaks to the design, don't hesitate to reach out to us before you place your order, and we'll be more than happy to assist.

• A quick note about sending your video invitation: You won't be able to send your video invitation as an MMS because different phone carriers have varying data capabilities. This could cause the video quality to drop and become blurry for the recipient.

• Our video invitations can be personalized in most languages, but unfortunately, we don't support Arabic and Hebrew alphabets at the moment.

• Remember that this is a digital file, so no physical item will be shipped. We'll send you your wedding invitation video as an MP4 file, which works with all smartphones and most social media platforms.

• Since you're paying for the customization service and the time it takes to personalize your item, we're unable to offer refunds.

• Your order includes 2 free revisions. If you need more, you can purchase extra revisions from this link
How can I order an animated invitation video?
If you wish to order any of our animated Invitation video  this is how it works:
1 Proceed with the payment.
2 You will receive a confirmation email with a link to the "order form". Complete the order form with your information and send your photo (s) to orders@studiocreativethings.com
3 Once we receive all material, we'll start working on your order. 
Our current turnaround time is 5 working days (Monday to Friday) to complete your order. 
How long does it take to receive my animated invitation?
Turnaround time for all animated invitations is 5 working days (Monday to Friday).
Can I have my invitation in a different language?
We can design your invitation in these languages: English, Spanish, Portuguese, German, Italian, and French (with each order is included only 1 language). You will need to provide the translation. Arabic, Cyrillic alphabets are not supported.
Can I use my choice of music for our animated invitation?
Due to copyright and licensing, we cannot legally download any Spotify, iTunes, or YouTube songs. 
You will need to send us the audio file in mp3, wav, or smiler format; we cannot download or convert any music from a link.
You can also choose music from our invitation playlist.
Can I change the typography of my invitation?
Yes, we have a large library of fonts, and we can show you some samples to choose from.
How is the invitation delivered?
You will receive a Video File in MP4 (H264) in multiple sizes. The video file is compatible with WhatsApp and can be sent via email or uploaded on social media.
Can I send the animated invite via text message?
Due to carrier data capabilities, video invited cannot be sent as an MMS (Multimedia message servicing). MMS will decrease video quality, making it blurry and unreadable at the recipient's end. However, you can text your guests the link stored on our Vimeo platform, which is private without ads or distractions - we do not charge for keeping videos there! We are not responsible if a playback error occurs when sending an invite from Vimeo since we cannot fully control what happens through third-party platforms.
Can I add a clickable link to the animated invite?
I'm afraid we can't add hyperlinks since video files don't support links yet.
Do you take custom design orders?
We're sorry, but we don't offer custom design services. We can only personalize the designs available in our shop with your information and music to make it right for you!
ORIGINAL & PERSONAL
Your special day is all about you, so your animated invitation should be just as unique and personal. Our animated invitations can be customised to reflect your personality and wedding style, including your own photos, logo and music.
SAVES TIME & HASSLE
Our digital invitations take all the time and stress out of sending your invites, with no licking and sticking of envelopes, writing addresses and physically mailing them out. You can order your invites just a few days in advance and send them out via WhatsApp, email or text message with a click.
EFFORTLESS FOR GUESTS
Your guests will love how instant and effortless it is to receive your event's details and RSVP in seconds. There's no need for them to fill out and mail a card back to you, they can simply follow your instructions on the digital invitation and reply by text message, email, or within your event website.